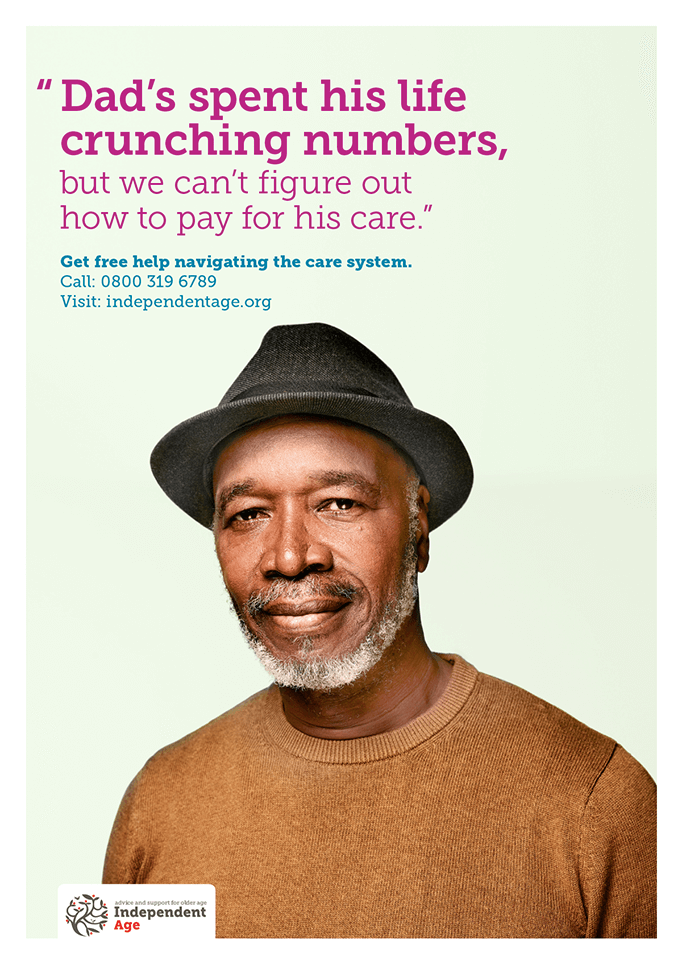 Info and Advice
Independent Age
Background
We were pleased as punch to win this 3-way pitch. Independent Age is a hungry contemporary charity that's going places, with a vibrant new team. We were keen to align ourselves and work with an organisation where there's lots going on. They invited Killer to run a test and learn awareness campaign, to promote their services to potential beneficiaries.
The brief
The campaign needed to reach two key audiences: the end user i.e. men & women 75+, plus family relatives i.e. grown up children and friends 40+. There would be two phases – the first focusing on money advice and benefits, and the second focusing on getting help with the extra costs of winter. The campaign needed to drive an increase in calls to their helpline, as well as online page views of the 'info & advice' section of the charity's website.
The work
We developed a strategic proposition around a few key principles: We should reflect the whole person (their skills, strengths and passions) and not just their identity as 'older'; that whatever age we are, there are things we know and things we don't know; and that there's no shame in asking for help.
Through this approach, our creative campaign avoided stereotyping older people or positioning them as victims. Instead we celebrated their personalities, bringing their characters to life and making them feel real and genuine for the audience.
We then used highly targeted digital media to push people towards the service, with a mix of Google display and Facebook newsfeed ads. Starting with over 220 ad combinations, we analysed creative and channel performance throughout the campaign and optimised constantly in order to drive low CPAs.
Results
In total, the campaign reached 2,134,921 people and delivered 98,491 link clicks. This was 24% above target on clicks through to the landing page, plus nearly 12% above target on actual page views. The result was nearly 3,500 advice guide downloads and 1,700 fact sheet downloads. We also took away some key media learnings to help shape effective channel use on future campaigns.