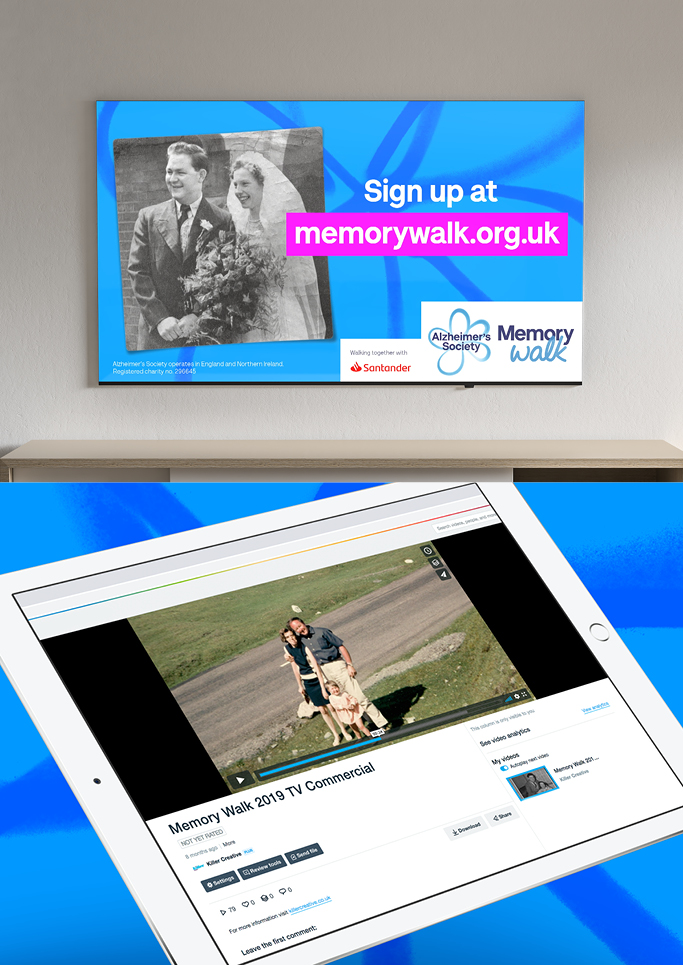 Memory Walk
Alzheimer's Society
Background
We have partnered with Azlheimer's Society on Memory Walk since 2018, using our expertise to create successful TV and radio ads. Memory Walk is a family-friendly sponsored walk and a fantastic way to make a real difference to people affected by dementia. It's free to sign up and accessible to all. You can sign up to one of 20 walks taking place up and down the country or take on your own Memory Walk.
The brief
This year they came to us and wanted to tailor the TV advert to reflect the changes to society and the impact Covid-19 has had to mass participation events - cue Killer! These changes included updating the voiceover CTA and providing a clear message participants can either find a Memory Walk near them or take on their own. And also updating the CTA in the radio advert.
The work
Our first action was to re-record the radio and TV ad's voiceover. We were lucky enough to get onboard the same voiceover artist who did the original ad. Due to Covid-19, we had to adapt our usual way of working and direct the voiceover session over Zoom. The VO studio, having been doing this now for the last year and a bit, managed this with ease and it proved to be a very successful session. It was now time to work at pace - in a matter of weeks we had agreed on new scripts, got these approved by ClearCast, re-recorded the VO for both TV and radio and edited the TV ad ready for submission and delivery to stations.
The results
The campaign launched at the end of June 2021 with the TV ad and radio ad going live, so keep your eyes peeled for results near the end of the year!