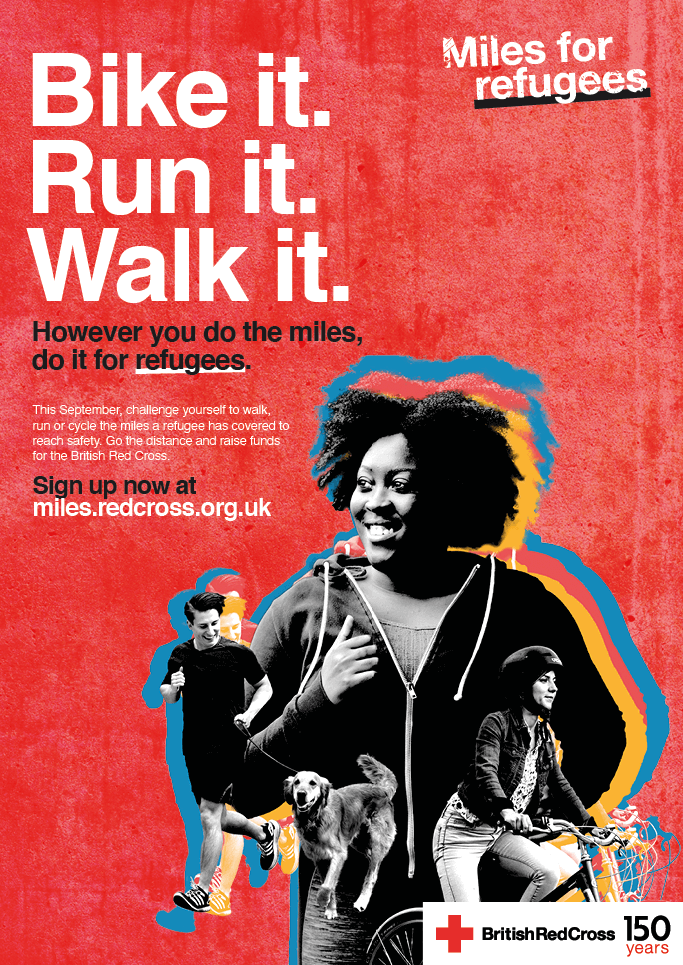 Miles for Refugees
British Red Cross
Background
We were approached by British Red Cross to help them develop an existing prototype MPE that the innovation team had been working on. British Red Cross tested the virtual mass participation event back in 2017, asking supporters to choose one of six distances relating to a journey a refugee may have to take to reach safety.
Participants could collect their miles by running, cycling or walking with a fundraising target of £150. The product was properly launched in 2019 and raised £426,599 with 2,013 sign-ups.
The brief
Our brief was to help develop, grow, shape and turn Miles for Refugees into a successful scalable MPE with minimum risk, grow the number of people coming to the platform/microsite and convert as many as possible to participants.
For 2020 they had ambitious targets of 5,000 participants and £650k fundraised, so wanted to work with a specialist agency to produce a creative concept, using this to redesign the microsite and develop a set of assets.
The work
Killer first reviewed and refined the existing campaign proposition, ensuring that messaging was clear, distinctive and attractive to target audiences. We then developed a bespoke creative concept – something the product had so far been without.
Our creative team designed a stand-out look and feel for the campaign that still tied in with the charity brand whilst having a unique visual identity that would capture the attention of potential participants. Our creative challenge was to visually explain what we are asking people to do for 'Miles for Refugees' which was to swim, walk, run or cycle.
With COVID-19 meaning the public were bound by social distancing and lockdown rules, the virtual nature and flexibility of the event meant that we were able to tailor messaging to make it a really appealing, accessible campaign.
As part of the roll-out we created a range of different assets, including a map, banners and icons for the microsite, social media badges, social ads (top-performing in the media campaign!) and infographics.
Maddy Janes
Mass Participation Events Manager
"We were recommended to work with Killer due to their expertise in the Mass Participant Event market and we were not disappointed. In a short space of time Killer developed a proposal that not only created a new identity and brand for our flagship virtual event but helped Miles for Refugees to raise over £2million. They took time to understand our brief, wants and needs from the project, which really paid off. They really do know their stuff when it comes to mass participation."
£2.1m

Raised so far

£426k

Raised previous year

7k

Sign ups

80%

Remittance