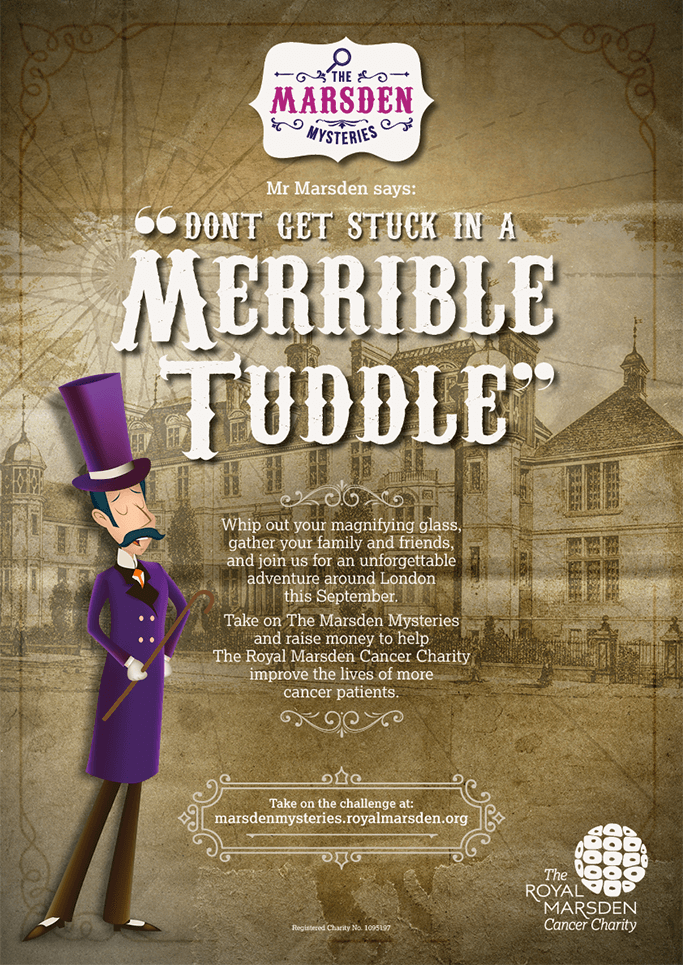 The Marsden Mysteries
The Royal Marsden Cancer Charity
Background
This was an interesting new product that we were excited to get involved in. This proposition was targeted at the notoriously difficult family audience, to give them something different; an event experience in real-time where you are part of the game. Royal Marsden's fundraising team had recently prototyped a new treasure hunt product, with groups of supporters discovering clues and exploring London in teams of 2-6 people. The test achieved positive results and they were looking for an agency to help turn the test into a distinct campaign idea.
The brief
To take the insights from the pilot and translate them into a campaign, giving the Royal Marsden stand out in the market and helping them to attract existing and new audiences.
The task was to develop a bespoke identity for the product that could be applied across various campaign activity, both online and offline. The identity also needed to connect back to The Royal Marsden Charity brand framework.
The work
The first step was to build on and develop the product proposition, tying in audience motivations around fun and adventure, with key messaging around the cause and heritage of the Royal Marsden hospital. Our unique creative concept focused on riddles and clues, with an illustrated caricature of Mr Marsden to bring the quirky and fun personality of the event to life.
As part of the roll out we produced facebook ads, posters and leaflets for use on site at the hospital, a digital fundraising pack, front-end app creative, press ads and creative copy to tell the story of Mr Marsden within the app.
Results
The decision was made to limit the campaign at pilot, with minimal media spend to test the revised product positioning and supporter experience. The result was 79 sign ups, with 80% of participants saying they would take part again. Together they raised £13k with an incredible £300 average gift.