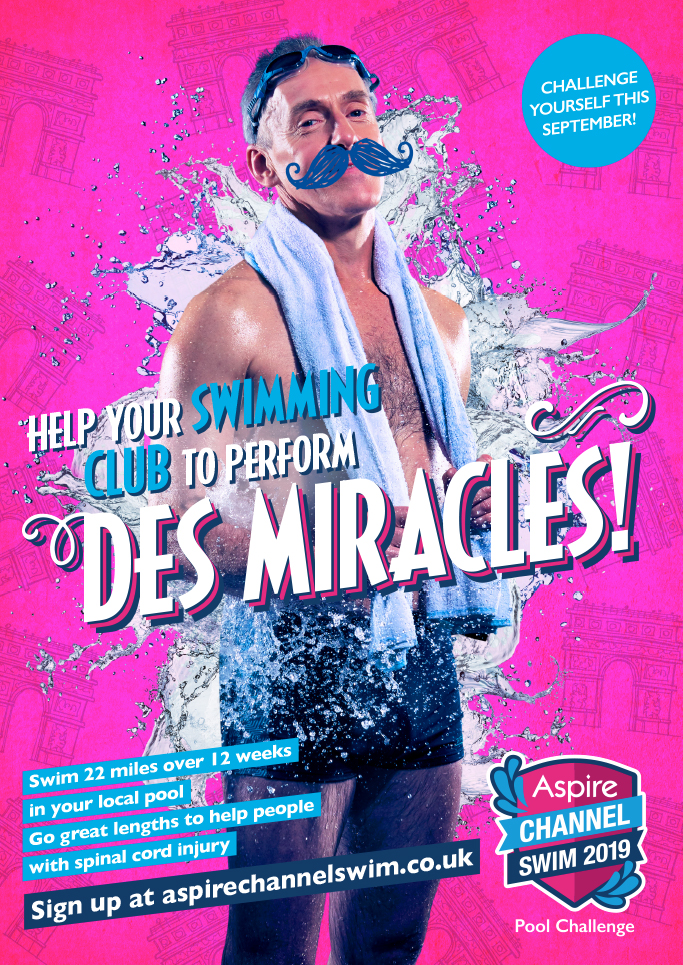 Aspire Channel Swim
Aspire
Background
Presented with the task of reinvigorating a 20-year-old flagship fundraising event, we rose to the challenge and produced killer results...
Aspire is a national charity that provides practical help to people who have been paralysed by Spinal Cord Injury. The Channel Swim is their biggest single fundraising event, raising over £6 million over the two decades it's been running. A virtual challenge, participants must swim 22 miles in 12 weeks at their local pool and in their own time, whilst fundraising for Aspire. After some very successful years, the event was re-branded and and as a result, experienced a reduction in participation and income in 2018.
The brief
In 2019, Aspire came to us as they were looking for an agency who could review all of their performance data and make strategic decisions on what to do to increase sign up volumes, conversion rates, income and remittance. Perhaps the biggest challenge was that Aspire needed us to help them hit their income target, despite the media spend being halved from 2018 to 2019.
The work
Our first step was to review all previous event performance and audience data, conducting competitor research, media channel research, forecasting and benchmarking. We also undertook a website review and audits of UX, UI and JustGiving. The next step was audience profiling; helping Aspire identify their primary, secondary, retargeting and influencer audiences. Using these insights, we created a clear proposition for each audience, defining logistics with rationale and developing a messaging hierarchy.
To ensure budget was utilised in the best way, we did a refresh as opposed to a full re-brand of the creative. Aspire had invested a lot of money in a photoshoot in 2018, it just needed to be artworked to suit the overarching concept - something that was fun, unique and stood out against competitors.
The strategy
The creation of an in-depth strategy for engaging with leisure centres was crucial - they are event ambassadors and are responsible for helping recruit participants. A detailed acquisition plan was also designed for other audiences, including engaging with previous and new participants. This detailed plan included emails, social, paid media on digital channels and PR.
Next, we created a detailed supporter journey plan, converting registrations into committed participants who would raise income. Part of this included a long-term strategy around encouraging participants to engage with their communities to ask for more sponsorship. Our studio team created a suite of assets both for acquisition and stewardship, including creative for digital (such as Facebook, GDN, HTML emails) and print (posters, letterheads & certificates).