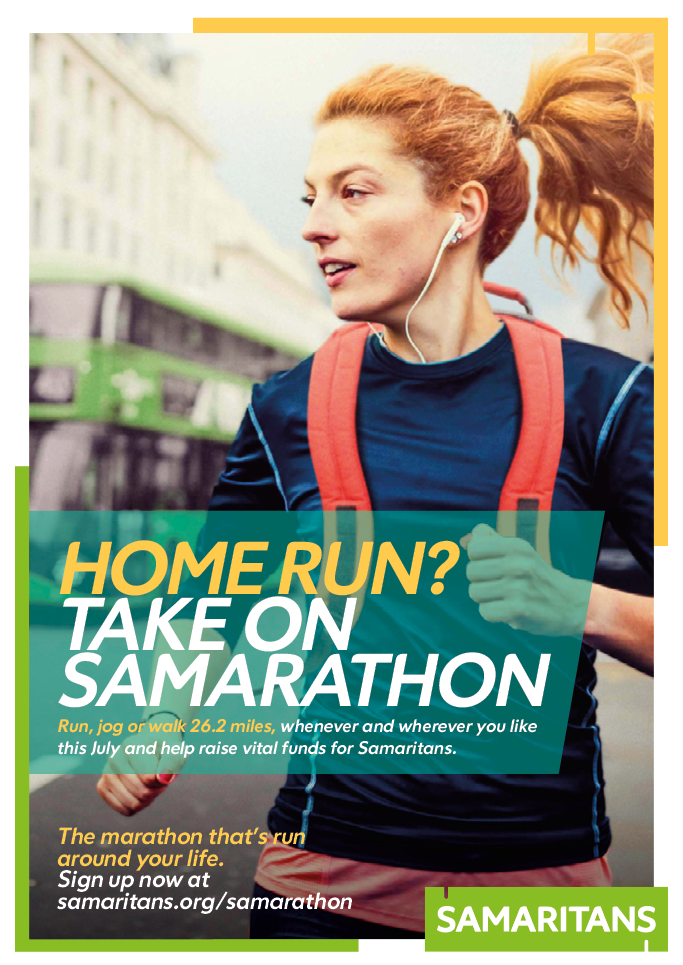 Background
Samaritans approached us for support developing a new Mass Participation Event (MPE) to go live Summer 2019– Samarathon. Now in its second year, the charity wanted to ensure that the 2020 event was even bigger and better than year 1.
The brief
After a successful pilot, Samaritans wanted to partner with us again to optimise on the events' success and develop it for year 2. Samarathon smashed last year's targets and we were tasked with doing the same again this year. The brief specified the need to build on these successes but keep the event fresh to ensure a high proportion of repeat participants and new supporters.
The work
Our first step was to carry out a strategic review of 2019 and ways to develop the 2020 event. Next, Killer refreshed the creative and core imagery - this was important as we were in the middle of a pandemic and needed to ensure the imagery worked for a more restrictive lockdown (as the ads were live in the midst of national lockdown).
We then created a new media plan based on outcomes from last year, along with developing a bespoke supporter journey plan, reviewing the new landing page and the acquisition plan. Killer then managed the paid media activity throughout, with daily optimisation to ensure high-performance.
The results
Initially we were concerned Covid-19 would have a negative impact on sign ups, but actually it has been quite the opposite! Getting out and exercising was key during the height of lockdown and still is, so the virtual side of the event is perfect, and so is the link to mental wellbeing.