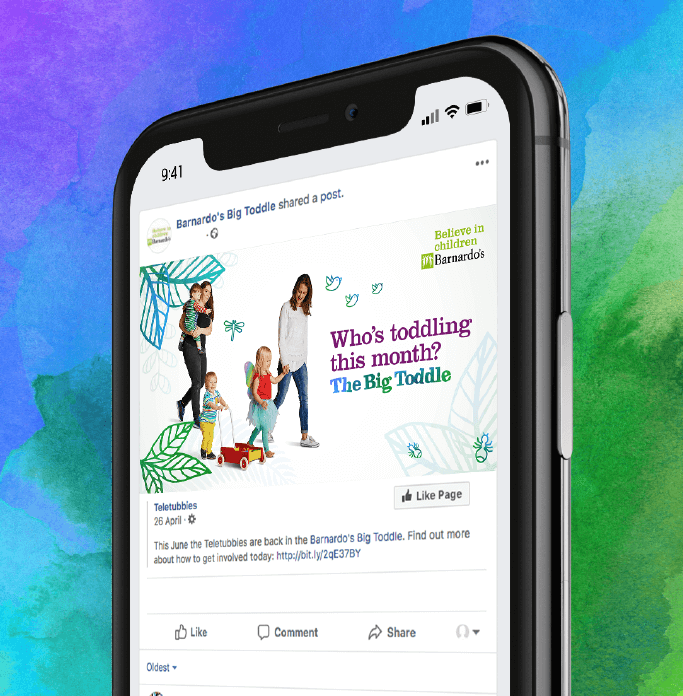 The Big Toddle
Barnardo's - Believe in children
Background
The Big Toddle is Barnardo's flagship fundraising product. A sponsored walk for under 5s, the event had captured and largely retained the nursery audience's imagination for nearly 20 years, as the biggest (and best!) mass participation event in the sector for young children.
The event saw some steady growth in the early years since it's inception in 1997, however recent years had seen a decline in registration, participation numbers and gross income.
The brief
Barnardos needed a creative, innovative agency with experience working on existing and new mass participation events to give the event a much-needed strategic and creative refresh.
Audiences included nurseries and child minders, as well as parents who might want to organise a Toddle with friends.
The work
We worked through many years of insight and creative, and decided to strip back and simplify the proposition – taking it back to basics. We needed to be clear with the audience about exactly what we're asking them to do – run a toddle themselves, or attend an organised event.
Our approach was to make everything as easy as possible – giving supporters everything they needed to run a successful Toddle. We chose the theme of 'colour', as it's simple to get children dressed up in bright clothing and doesn't require too much effort or creativity.
Strategically we developed different marketing strategies for both B2B (organisations such as nurseries) & B2C (individual parents) audiences. We also created a segmented stewardship journey, to ensure all audiences would feel supported and to encourage them to raise money.
As part of the project we planned and managed a photo shoot, carried out a website review, and delivered a social strategy, digital ads and email copy for acquisition and stewardship. We also planned and managed the media with an emphasis on measurement & data, adapting the spend daily based on performance.
Results
2016 (before Killer worked on the campaign) – 4,150 registrations.
2017 – 6,095 registrations.
2018 – 6,998 registrations.
By working hard at stewardship we also saw a 27% increase in income from 2017 to 2018.