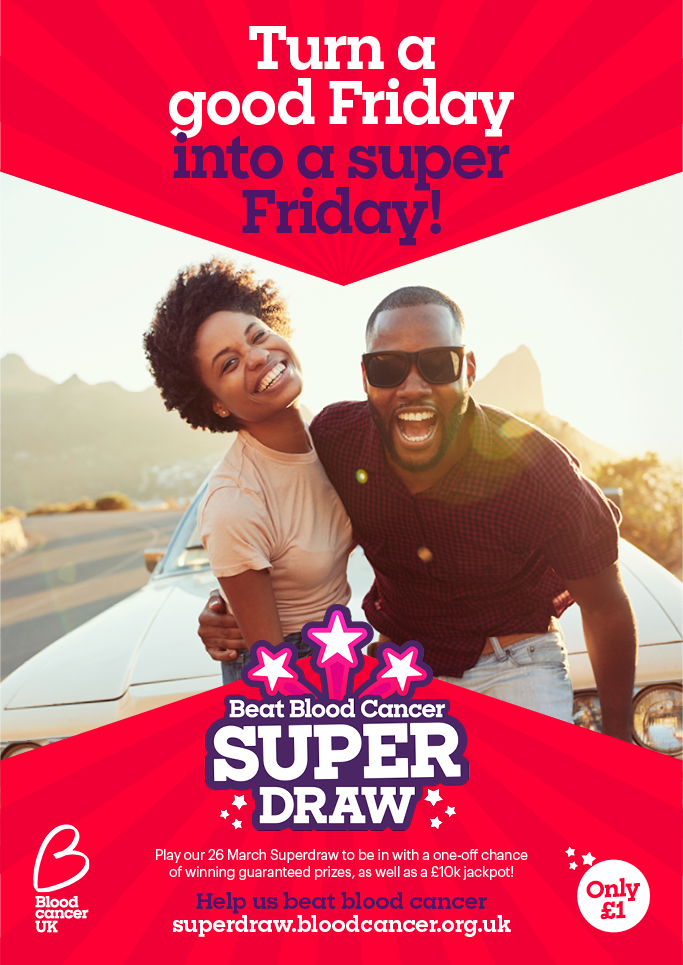 Blood Cancer UK Superdraw
Blood Cancer UK
Background
Due to the success of Blood Cancer UK's Lottery recruitment, both via face to face fundraising and social media advertising, the charity were confident that a Superdraw would be a successful income stream for them, however they needed help to create an eye-catching creative look that also aligned with their current lottery. Killer had previously worked with BCUK on the lottery product and were so impressed, they wanted to work with us again on the Superdraw.
Brief
Killer were tasked with designing and developing an exciting creative identity for Blood Cancer UK's new Superdraw. The campaign was primarily to test the success of superdraws as an income stream for the charity, more specifically encouraging existing Lottery players to purchase entries to the Superdraw (active and lapsed), reactivate lapsed lottery players and also understand which cash-givers were most likely to be converted to their weekly lottery. BCUK needed a quick turnaround on the creative and assets in order to get everything ready and with the printers before Christmas 2020, so speed and efficiency was essential. 
The work
We started with designing a new creative look and feel for Blood Cancer UK's Superdraw loosely based on the existing Lottery creative but with its' own unique style. Once this was developed, we created the following campaign assets to launch the product:
A creative toolkit for BCUK's in-house design team

The DM pack envelope

Welcome letter (with 3 different copy variations)

DL flyer 
Results
Both Killer and the client were really pleased with the results - the campaign made over double what Blood Cancer UK expected in ticket sales and donations, with total income raised at £16,749 (against a target of £7,850). On top of ticket sales for the Superdraw there were £2,742 in donations too, which was an unexpected but welcome outcome! 
Amber Creagh
Individual Giving Manager
"Superdraw went so, so well! Thank you so much
for all your help with it. We made over double what
we expected to in ticket sales and donations."
£16k

Raised

14

Average number of lines played

994

Players

£2k

In just donations