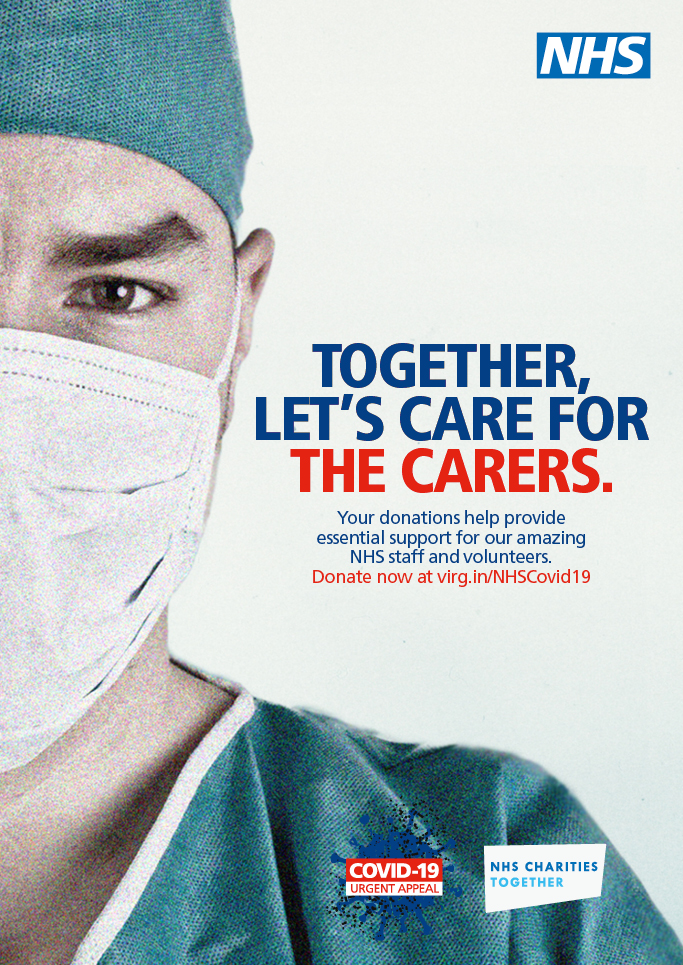 COVID-19 Urgent Appeal
NHS Charities Together
Background
We were approached by NHS Charities Together who are the National collective voice for over 140 NHS Charities in the UK. These NHS charities focus on helping our hospitals do more. Collectively they give £1 million every day to the NHS so that people can stay well for longer and get better faster.
The brief
Originally, we partnered with NHS CT for their annual 'NHS Big Tea' campaign, but due to the current COVID-19 pandemic NHS CT decided to put the campaign on hold. Instead, they asked us to launch a short-term National fundraising appeal to support NHS staff and volunteers and say thank you in this difficult time.
We asked the public to donate to the NHS Charities National appeal that acknowledges and supports NHS Staff and volunteers caring for COVID-19 patients.
The objectives
We wanted to create an urgent appeal to raise £100 million to help NHS staff and volunteers who are on the frontline dealing with this pandemic.
We needed to give the UK public a compelling reason to give and show support, respect and appreciation during these unprecedented times, through a donation to help NHS staff.
The work
We wanted this campaign to make the UK public really appreciate what the NHS staff are doing, working tirelessly and putting their own lives at risk to look after our sick and elderly… but who is looking after them?
We didn't want the message to come from the NHS staff themselves; as we didn't want the staff themselves to be asking for help. Instead we wanted a simple and direct ask to the public and to demonstrate a series of adverts showing multiple roles within the NHS, with powerful wordplay.
The results
We have smashed the target of £100 million and are now on over £134 million, with donations still coming in!
The support from the community has been overwhelming and many amazing initiatives to raise funds for the cause have taken place from all over the country. Some examples are:
PlayersTogether: Premier League players have launched #PlayersTogether and partnered with NHS CT to help generate funds for the NHS and distribute them where they are needed most.
Vivienne Westwood is currently supporting the appeal through her website.
Virtual Grand National: Bookmakers have donated over £2.6m to NHS charities from profits on the Virtual Grand National, as almost five million people tuned in to watch the race.
Dame Vera Lynn and Katherine Jenkins have recorded a duet of We'll Meet Again, inspired by the Queen's address to the nation on Sunday that made reference to the song. Money raised by the single went to the NHS CT appeal.