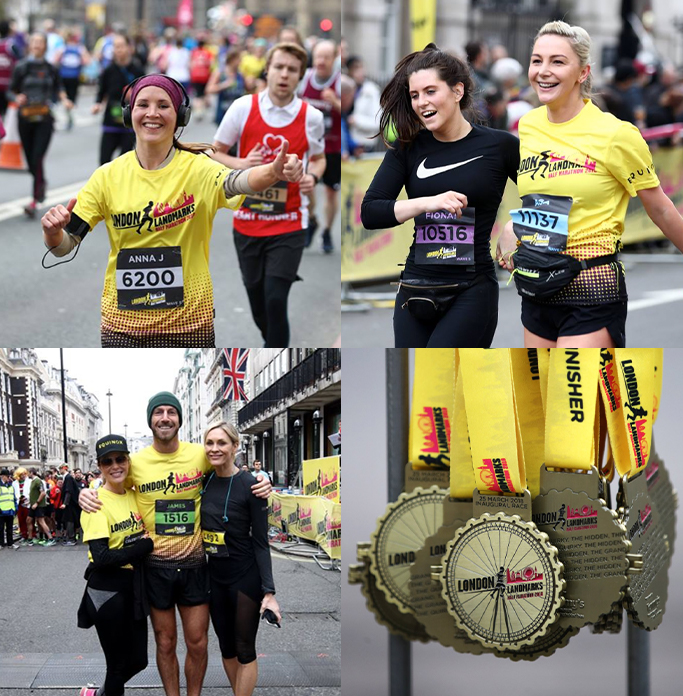 London Landmarks Half Marathon
Tommy's
Background
Tommy's, the charity saving babies lives, asked Killer to develop the creative look and feel for their brand new running event. The half marathon would be the first of it's kind – an exclusive closed road event going through both the City of London and the City of Westminster – while taking in the sights of the wider city.
The brief
Tommy's invited us to join the process at the early stages, attending market research focus groups and workshops so that we could bring our creative expertise to the development of the event name and messaging. Once the name – London Landmarks Half Marathon – had been agreed, we were asked to develop the creative look and feel.
A key part of the brief was to ensure the creative would stand out from competitors such as Cancer Research UK's Winter Run and the Royal Parks Half Marathon.
The work
Our approach was to showcase the half marathon route, with the city at its heart, and to celebrate London's 'quirky & hidden' history.
We developed an attention grabbing bright yellow and pink campaign, then demonstrated how the styling could work across a range of channels, including master ads, merchandise, digital ads and signage. We also developed a set of guidelines so that the in house team could roll out the concepts to event collateral.
Results
50 charity partners got on board in year one, plus 5,000 public places sold out within an incredibly short period of time, with over 70,000 people hitting the registration page the moment it went live at 9.30am. The event raised over £4m in 2018 and it's projected that £14.3m will be raised in the first 3 years alone.
Awards
Fundraising event of the year 2018, Third sector awards
Medal of the year 2019, Running Bible
Active award 2019 – BT, Sport industry awards
Lia Fyles
Race Director, London Landmarks Half Marathon
"Selecting Killer Creative to create the visual identity for the London Landmarks Half Marathon is without question one of the best decisions I have made during my 11 years at Tommy's. The team at Killer came up with the idea to use a bold, fun yellow as our main brand colour which has been a huge contributing factor to the success of the event. The LLHM visual identity has provoked a real 'mania' amongst our participants and we have seen plenty of pictures on social media of runners painting their nails yellow & buying yellow garmins. The public reaction to the visual identity has exceeded all expectations and has been so successful for us that it has led us to produce a range of LLHM merchandise which we will be launching at the 2019 event. The team at Killer were fabulous to work with. They were creative, engaged, passionate and nothing was too much effort for them. Their prices were also fair and I would highly recommend them as an agency to work with."
1st

Half marathon in central London

70k

Hits on the registration page when it went live at 9:30am

50

Charity partners

£10m

Raised since the first year